Get GSA SER Verified lists:
These are the places I use and recommend for the respective various services
VPS / SSD VSP / Dedicated / SSD Dedicated:
Solid SEO VPS – This is who I use for the bulk of my servers, they are reliable, have fast and helpful customer service and their value is great for the cost.  As a general rule you do not need the SSD options for programs like GSA SER and Scrapebox etc…  GSA and Scrapebox perform most of their functions in memory and thus your money is better spent to buy a better processor and more memory over a faster hard drive.
SSD Info:
Some people may disagree with the note about SSD, and SSD is faster for many applications, but only when you need to access a lot of data back and forth.   For example I am typing this message on my laptop which has an SSD and this site is hosted on a machine with an SSD.  However I have tried both SSD and non for SER and Scrapebox and noticed no difference, other then I was paying more for the SSD.  I even conferred with the Scrapebox developer and they confirmed that for programs that work in memory.
Free VPS with Solid SEO:
I actually use the BX200 option for all of my servers from Solid SEO VPS.  Another great thing about using a dedicated server with windows is that windows allows you to create a 1 VPS per license.  So you can actually by a value server and then get it split into 2 machines, which is generally better to have 2 smaller machines running vs 1 large one.  The main reason is windows is not built for SEO programs and doesn't like large volumes of connections, so its better to split it in to two vps (if you need 2 or more vps).
You do have to purchase an additional IP for a couple bucks but overall I can get a VPS with 12GB of memory with 2 cores/4 threads and share a 2TB Hard drive for a total of roughly $95 or $47.50 per VPS.  Thats a killer deal for a VPS of that power.  They are however located in France, so RDP latency may be a bit slow depending on where in the world you are located.  Thats my 2 cents on a cost effective but high quality hosting solution.
Emails:
SEOSpartans – They offer catchall emails.  The reason these are the best is you don't have to worry about going and buying new mails all the time.  New mails are created automatically on the fly by GSA.
This makes it hassle free and zero effort with no need for constantly updating them.  Also their support is top notch.
Proxies:
BuyProxies.org – Buy Proxies has been a great private and shared proxy provider for years now.  I have used them for multiple years and they have always been great.
There are indeed many other good providers out there, and I have used many of those, but at a point I decided to consolidate and get the bulk of my proxies from 1 provider, and I chose buyproxies.org and have not regretted it.  By consolidating I saved money and the proxies are as great as ever.  I have several packages with them.
Bear in mind that each pack will work with only two ips, so if you have say 4 servers, you will need 2 separate packs from them and make sure you only use each pack with max 2 ips for max success.  Most proxy providers are like this on some level or another, but its just something to be aware of.  Also for reference they, as well as most other providers, recommend a max of 10 connections per proxy.  So if you get 20 proxies you can run 200 connections, 50 proxies is 500 connections etc…
Captcha Solving:
I use GSA Captcha Breaker (CB) to solve all the captchas in the main verified list, I also use CB for other programs, like Scrapebox etc…  It can be used with all sorts of programs.
I worked with S4NT0S to negotiate the best offer available out there anyway.  This is even less expensive then you will find on forums etc…  Most of the links on this page are affiliate links (I figure I use the products, they are good, why not also make a buck.), however this one is not an affiliate link for me.  If you view the link you will see the word affliate in it, thats S4NT0S link, he works for GSA and one way he gets paid is off sales he makes.  So he makes a buck, you get the best deal available and I make a buck selling lists, everyone wins.
You can access the offer here:
Coupon Code:
loopline
Note: You have to click the "I have a discount" box and enter the above coupon code in order to get the discount.
So how much do I save on captchas each day? I save thousands.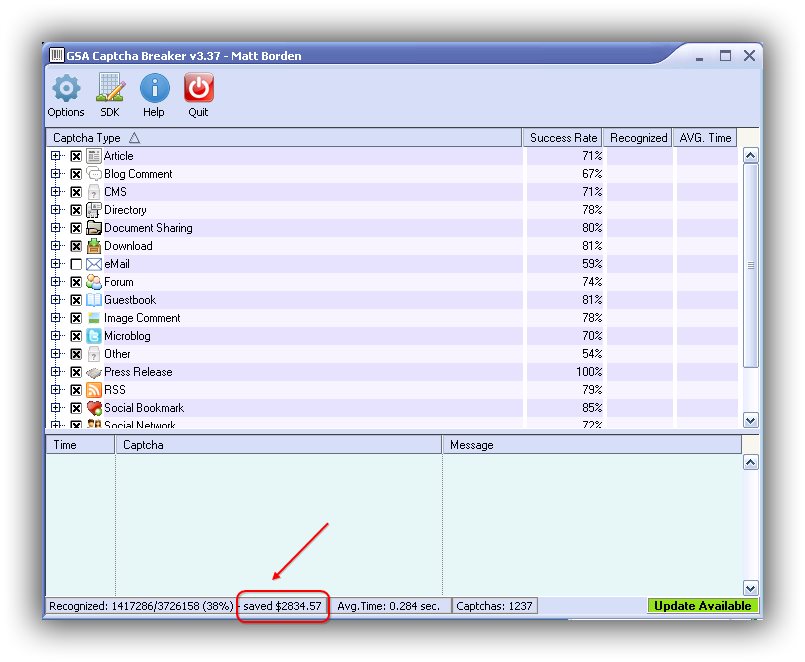 reCAPTCHA Solving:
For Solving reCAPTCHAS I recommend using Captcha Tronix.  Every so many months a new service comes out and another goes away, so this may update from time to time.
However Captcha Tronix has been around for over a year and are still working well.  They also have a helpful control panel that allows you to see what your using, which can help you optimize your GSA setup.
Text Captcha Solving:
I use and recommend Blazing SEO for Text Captcha Solving.  I have used them for a couple years and they work well.
GSA SER

I negotiated a special offer to purchase GSA SER at the best discounted price that is available anywhere.
You can access the offer here:
GSA SER Special Offer

Coupon Code:
loopline
Note: You have to click the "I have a discount" box and enter the above coupon code in order to get the discount.
Social Ser